Lexica: Image search engine and prompts
Lexica is an artificial intelligence based prompts search engine and image generation tool that uses Stable Diffusion, an open source machine learning model. It allows you to create unique images from a textual description and draw inspiration from the best Prompts.
How Lexica works
1. The search engine by prompt
On Lexica.art, you can search for images generated by other users using the search bar. As you scroll down, you discover the highlighted images and can adjust the number of image columns with a slider. If you are inspired by an image, you can copy the prompt and test it in an image generator like Stable Diffusion ou Midjourney.
2. The Lexica Aperture Image Generator
After creating a free account, you can write the description of your image, click on "Generate" and observe the results. By default, 4 images are generated, but you can repeat the operation if necessary. Lexica Aperture allows you to generate 20 images for free each month. The quality of the images generated by Aperture is very good (much better than many other popular image generators).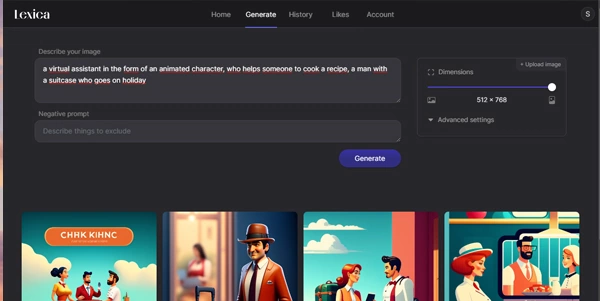 Customization and advanced settings
Advanced settings
To improve the relevance of results, Lexica allows you to exclude certain items using the "Negative prompt" section. Another nice feature is that you can change the size of your images, the guiding scale (number of images per line), the depth of background elements and the color contrast.
Adding details and variants
Not surprisingly, this AI can easily add more details. To do this, click on "upscales the image by adding more details". Lexica can also generate color variants, styles and many more parameters.
Managing designs on Lexica
To help you get organized, you can view your favorites and history at any time. In fact, all of your creations are listed in the "History" section, while your favorite images are accessible in the "Likes" section. This way, you are sure not to lose anything.
In conclusion, Lexica is an amazing tool that brings your writing to life through artificial intelligence. This search engine (prompts) and image generator is ideal for creating new visuals, finding inspiration or testing the performance of AI.

More sites like
Lexica.art
in the category:
#Prompts & Aids

Lexica.art
AI Alternatives for

Lexica.art :

« A list of prompts categorized to help you improve your results with ChatGPT »
#Latest AI
#Prompts & Aids

Visit this site

« A prompts generator for Midjourney containing styles, keywords, resolution comparison, image weight, etc. »
#Github Projects
#Prompts & Aids

Visit this site

« Facilitates the creation of impactful prompts through a user-friendly and easy-to-use interface »
#Prompts & Aids

Visit this site