AI News 2023
AI News: All the latest news and information about AI
Welcome to our user-friendly space, where artificial intelligence is no longer a technical jargon, but an exciting daily adventure. Our AI news corner is the place to be for the curious and the enthusiastic, eager to delve into the latest trends and innovations shaping our digital future.
AI News for Everyone
If you're hungry to find out what's going on in the fascinating world of AI, look no further! Here, the news flows with a freshness and relevance that make all the difference. Thanks to a handy little technological gadget, our RSS feed, you're sure not to miss a thing. Imagine a steady stream of hot news landing directly on your screen. It's a bit like getting news from old friends, only these friends are robots and algorithms!
A Cocktail of AI News for All Tastes
From strokes of genius in university labs to leaps forward in tech companies, our dedicated AI column covers it all, without exception. Whether you're into health, green energy, futuristic gadgets or even digital finance, you'll find captivating stories, smart advice and thought-provoking case studies served up on a platter.
Dive into the heart of AI with our AI News Page
This special AI area is a digital space where the future of artificial intelligence is taking shape at every turn. It's not just a place for information, it's your gateway to knowledge that's evolving minute by minute. Here's why you'll love spending time on our AI News Page
Continuous news: Here, AI news beats to the world's rhythm. Stay in touch with the latest developments, spectacular advances and juicy anecdotes from the world of artificial intelligence.
A variety of sources: We draw on a wide range of sources to provide you with a comprehensive overview. From academics to manufacturers, from start-ups to technology giants, you have access to a mosaic of information.
A polished user experience: Our page is designed to make navigation smooth, intuitive and enjoyable. Ergonomics is at the heart of our approach, so that you can find the information you're looking for quickly and easily.
Visual comfort: We know that reading comfort is crucial, especially when plunging into the depths of AI. That's why our page features a dark mode for resting your eyes during your nocturnal explorations.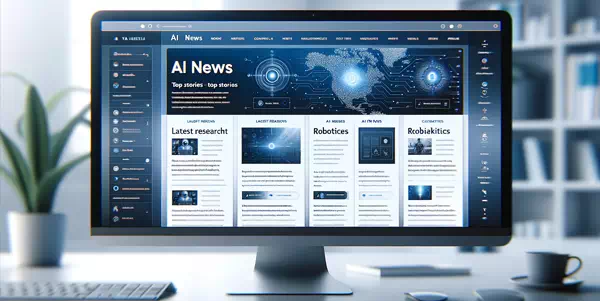 Our AI News page is more than just a source of information; it's an open window on artificial intelligence accessible to everyone, at any time. You don't need to be a technophile expert or hold a PhD in computer science to enjoy our content – anyone with a hint of curiosity about artificial intelligence will find our page a treasure trove of information to accompany their discovery. It's your personal invitation to an exciting journey into the heart of tomorrow's technology.
Little extra
For those who prefer the video format, Aixploria also offers a section called AI YouTube, which brings together captivating visual content to follow AI news in a dynamic and interactive way.
In conclusion
In our AI News section, every day is a discovery, every article an adventure. We promise you AI news served up on a silver platter, with a pinch of conviviality and a healthy dose of surprises. Embark with us on a captivating adventure into the world of artificial intelligence; our page is the ideal starting point for all those wishing to explore, understand and marvel at the prowess of AI, whatever their previous experience.