Synthesia.io: the best AI video creator
Synthesia.io is leading the way in artificial intelligence (AI) video creation. It allows users to easily create realistic avatars and videos, revolutionizing the way marketers can get their message across. Synthesia offers an incredibly simple user interface along with intuitive AI technology that makes it easy for anyone to create professional videos.
What is Synthesia IO?
The Synthesia.io platform is the pioneer of AI-based video content creation in the market. It combines deep learning, natural language processing (NLP) and facial recognition technologies to create lifelike avatars that can speak and communicate with viewers. With Synthesia, users can develop videos from scratch, design custom characters and environments, control movements, etc. In short, an indispensable tool for the future.
Who is Synthesia for?
To a huge number of people! In fact, it's the perfect tool for any marketer looking to create professional and engaging video content. With its intuitive user interface, it makes creating realistic avatars and videos simple and accessible. It is especially well suited for those with limited video editing experience or who don't have the time to invest in learning complex software.
A free or paid AI?
This AI is available in both a free version, which offers limited features and capabilities, and a paid version, which offers more advanced tools and options. Still, the free version includes basic avatar creation, environment customization, and some simple animations. The paid option, on the other hand, gives the opportunity to use Synthesia's many features to create high-end videos.
The pricing plans are designed to fit a wide variety of budgets, from small businesses to large corporations. In fact, the basic plan starts at $19/month and offers all the features you need to create amazing avatars and bring them to life with realistic animations. Synthesia also offers custom plans for larger companies.
Create an avatar that looks like you!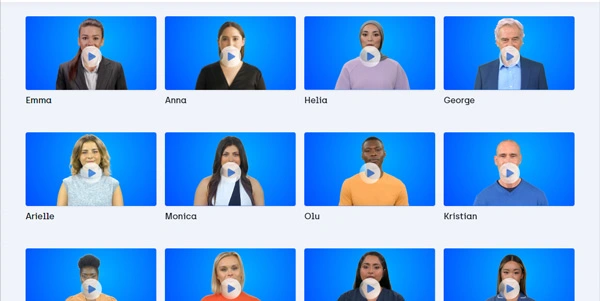 With Synthesia, it's easy to create an avatar that looks like you! With its advanced facial recognition technology, Synthesia can capture your features and reproduce them in a realistic, true-to-life avatar. This is perfect for creating videos where you are the main character. Plus, you have full control over customizing your avatar's appearance.
What future for AI video?
The future of AI video is bright. Thanks to Synthesia's innovative technology, marketers are now able to create realistic avatars and videos in record time. As AI technology continues to evolve, we can expect to see more powerful tools, allowing even more complex videos to be created with ease. In addition, the cost of creating high-quality videos is getting lower and lower.
Advantages and disadvantages of Synthesia
✔️ Benefits:
Simple user interface and intuitive AI technology, making video content creation easy for anyone.
Advanced facial recognition technology allows users to create realistic avatars that look like them.
Different pricing plans available to fit a wide range of budgets.
Many features available to create high quality videos.
❌ Disadvantages:
Limited customization options in the free version.
Potential compatibility issues with some video editing software.
Not suitable for complex projects that require large amounts of data or high levels of detail.
No support for real-time collaboration or multi-user access.

More sites like
Synthesia IO
in the category:
#Video Generators

Synthesia IO
AI Alternatives for

Synthesia IO :

« A text-to-video generator that uses a new factoring technique to produce realistic AI videos »
#Imminent release
#Latest AI
#Text-to-video
#Video Generators

Visit this site

« Turn your podcast into short videos for platforms like YouTube Short, TikTok or Reels »
#Social Networks
#Video Generators

Visit this site

« Convert your texts, web pages and articles into professional videos. Ideal for improving customer engagement »
#Latest AI
#Video Generators

Visit this site