HeyGen: speak any language on video with AI
Introduction
Imagine being able to speak any language to perfection, without having to learn or practice. Imagine being able to have anyone speak in the language of your choice, without the need for actors or subtitles. Imagine being able to create multilingual videos in minutes, without having to use complex software or pay for expensive services.
Well, that's what HeyGen offers you, an artificial intelligence that is revolutionizing dubbing and video translation.
What is HeyGen?
HeyGen is a Californian start-up founded in 2020 by Joshua Xu, a Snapchat alumnus, and Wayne Liang, an alumnus of Bytedance, the parent company of TikTok. The company specializes in the creation of video avatars that harness the power of generative AI. With HeyGen, you can choose from over 100 avatars or create your own, and select from 300 voices available in 40 languages.
New: real-time video translation
Recently, you can also use it to translate your videos into different languages with lip-synchronization. HeyGen is a useful tool for various use cases, such as product marketing, content marketing, sales prospecting and training. The tool is also affordable, starting at $30 for 100 videos per month.
How HeyGen works
The AI created by the HeyGen site relies on two key technologies: text-to-speech and lip-synchronization. Text-to-speech involves generating an artificial voice from text. Lip synchronization involves adjusting the lip movements of a face to a voice. This combination enables you to create video translations with a natural, fairly realistic rendering.
How to use HeyGen.ai?
To use HeyGen, simply visit its website and upload a video between 30 seconds and 5 minutes. Then choose the translation language from these options: French, Portuguese, Spanish, German, Polish, Italian, Hindi, English (British or American accent).
HeyGen.ai then takes care of dubbing your video into the language and voice you've chosen. You can preview the result and export it in MP4 or GIF format.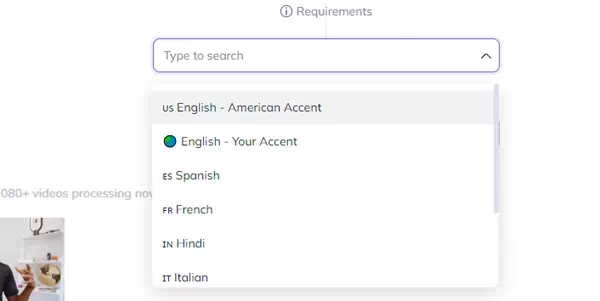 An innovative technique
This AI uses deep learning algorithms to analyze the content of your video and generate a voice suited to the context and tone. It also uses 3D facial models to modify your avatar's facial expressions and lip movements according to the voice generated. As a result, it guarantees faithful translation and virtually perfect lip-synchronization.
What are the benefits of HeyGen?
HeyGen.ai offers many advantages over traditional dubbing and video translation methods. Here are just some of the benefits you can gain by using this video translator:
Save time and money: with this site, you don't need to hire actors, dubbers or translators. You can create multilingual videos in just a few minutes and at low cost.
Increase your reach and engagement: you can reach a wider and more diverse audience (international) by offering your videos in different languages. You can also capture your viewers' attention with attractive avatars and natural voices.
Enhance your creativity and originality: you can experiment with different avatars, voices and languages. You can also make famous personalities or fictional characters speak in the language of your choice.
Alternatives for HeyGen AI
Let's not waste time, the best alternative for Heygen.ai is clearly Rask AI! This service offers similar options and also lets you translate your videos in real time. Lip-sync also works wonders with this AI.
Review and conclusion
To conclude, HeyGen is an artificial intelligence that is revolutionizing dubbing and video translation. Thanks to HeyGen AI, you can speak any language to perfection, make anyone speak in the language of your choice, and create multilingual videos in minutes. If you'd like to try it out for free, visit its website and discover the infinite possibilities offered by this now-popular generative AI.

More sites like
HeyGen AI
in the category:
#Transcriber

HeyGen AI
AI Alternatives for

HeyGen AI :

« Free subtitle generator that works on all types of media »
#Transcriber
#Video Edition

Visit this site

« Transcribes oral conversations into text »
#Business
#Education / Studies
#Transcriber

Visit this site

« Transcribes audio directly from your microphone, while ensuring the confidentiality and security of your data »
#Latest AI
#Transcriber

Visit this site