ElevenLabs: Voice Reader and Voice Cloning by AI
What is ElevenLabs?
ElevenLabs is an innovative company distinguished by its expertise in artificial intelligence and Deep Learning. The US-based company was founded in 2022 by Piotr Dabkowski and Mati Staniszewski.
Voice reader and voice cloning
ElevenLabs' reputation rests above all on its AI-assisted text-to-speech software. It requires nothing more than an internet connection and a web browser to use. This revolutionary technology can reproduce speech with near-human quality. How can it do this? By synthesizing the emotion, vibration and intonation of a voice.
What's more, you can clone your own voice and have it read any text. The result is truly amazing! This AI can currently read text in several languages: English, German, Polish, Spanish, Italian, French, Portuguese and Hindi. Other languages are expected to be added in the future.
How to use ElevenLabs
1. To begin this mini-tutorial, go to the website and sign up.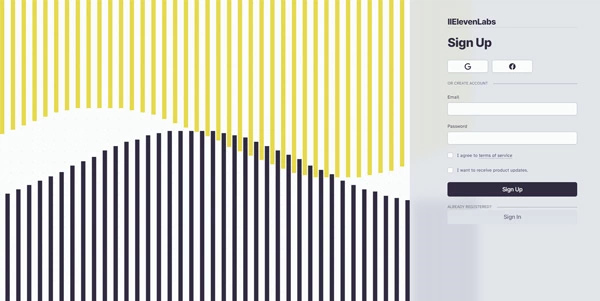 2. Submit your text in the appropriate field.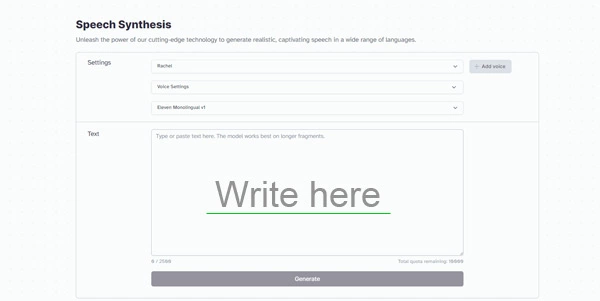 3. Select one of the many available voices.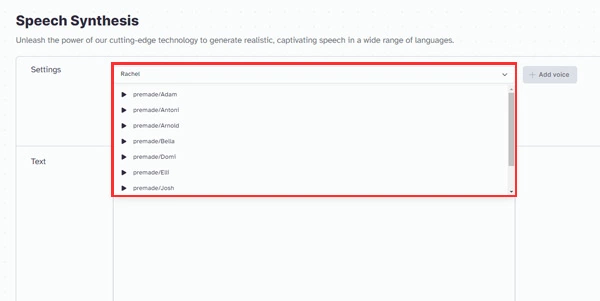 ElevenLabs rates and prices
Registering with beta.elevenlabs.io is really easy and free of charge. And to speed things up even further, you can link your Google or Facebook account directly to the application.
The website has a demo version and a free version available to all (accessible after registration). The free version includes some services, but limits usage to 10,000 characters per month. Consequently, if you need more characters, there are several other packages that should certainly suit you better.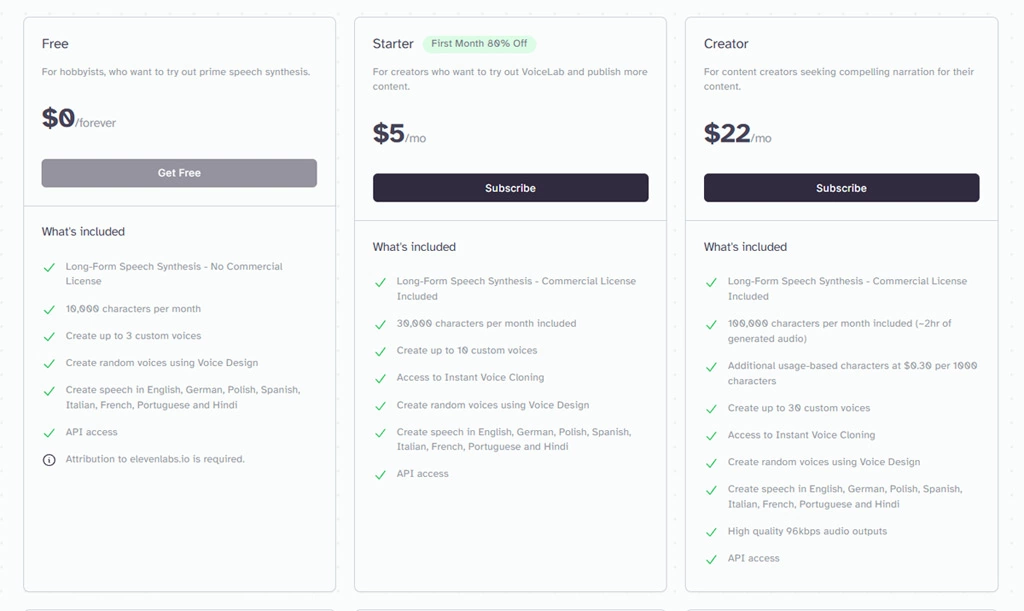 First of all, there's the "Starter" package (the most popular), which is very attractive for newcomers. It offers an 80% discount for the first month, after which it will cost you $5 a month. With the Starter package, you triple your character quota to 30,000 characters per month.
Need even more? Then opt for the "Creator" subscription, available at $22/month, and enjoy a quota of 100,000 characters per month! Still not enough? Don't worry, try the plans reserved for professionals: Independent Publisher ($99) and Growing Business ($330).
ElevenLabs' key uses
ElevenLabs' technology has already been used in a variety of sectors. Indeed, not long ago, the voice of a virtual DJ was used in a fully automated radio station. Numerous videos are also being uploaded to TikTok or YouTube with voices designed from Eleven Labs AI.
The voice cloning controversy
Although ElevenLabs' artificial intelligence has been widely acclaimed, it has also raised ethical questions. Some have used its software to generate controversial speech by imitating the voices of celebrities and public figures. In the face of such criticism, ElevenLabs has taken steps to mitigate potential abuse through safeguards and identity verification.
Popular alternatives to ElevenLabs
Other platforms offer text-to-speech or voice cloning. Companies like Play HT, Resemble AI, Coqui, Murf AI et Listnr are artificial intelligences that are quite similar to ElevenLabs. Some of them can also clone your voice, making them real alternatives.

More sites like
Eleven Labs
in the category:
#Voice Reading

Eleven Labs
Text written by a human
AI Alternatives for

Eleven Labs :

« Generate voiceovers, narrations, podcasts, and more. With over 700 AI narrators to choose from »
#Voice Reading

Visit this site

« An assistant that reads articles or texts as you surf the web. You can also chat with the AI via the Chrome extension »
#Extensions ChatGPT
#Latest AI
#Voice Reading

Visit this site

« AI-driven software turns any text into a realistic human voice »
#Latest AI
#Voice Reading

Visit this site