WriteSonic: your AI assistant for Copywriting
What is WriteSonic?
WriteSonic is a revolution in the world of AI-assisted authoring. In fact, this fabulous tool offers a first-rate solution for creating high-quality digital content. As such, it can help you write blog posts, product descriptions or advertisements. These are just a few examples, as the possibilities offered by this AI are truly endless.
How does WriteSonic work?
In fact, this tool uses advanced AI technology to generate textual content. As soon as you enter a title or description, the AI starts producing content in the context you've previously provided. From now on, writing an article, a script or a sales page will no longer be an arduous task.
Why choose this writing assistant?
Really, there are several reasons why WriteSonic is a pretty good choice if you need a writing assistant. Firstly, it offers a wide variety of content templates, saving time and efficiency. Secondly, the quality of the text generated is exceptional: your content becomes much more attractive and engaging. Finally, WriteSonic includes a paraphrasing tool that guarantees the uniqueness of your text, eliminating the problem of duplicate content.
Add illustrations too with PhotoSonic
Recently, an innovative new tool for generating illustrations has become available. Its name? PhotoSonic! Naturally, it too uses the power of artificial intelligence to create customized illustrations with disconcerting ease. No need to spend hours looking for a photo to illustrate your article: PhotoSonic will do it for you. Whether you're looking to enrich your content with unique illustrations or bring your ideas to life, this image generator will (once again) save you time and money.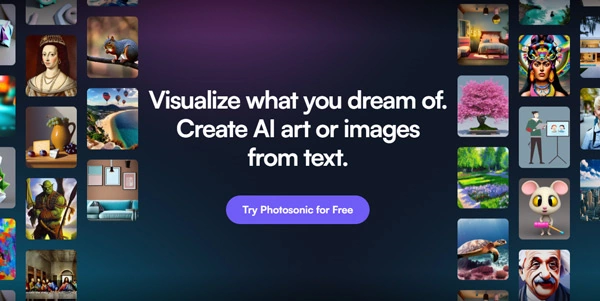 Alternatives to WriteSonic
Other options are currently on the market in the unfortunate event that WriteSonic doesn't meet your criteria. Similar platforms such as Jasper AI, Rytr, Copy AI ou Smodin are excellent alternatives. Jasper stands out for its ability to generate long-form content, while Rytr is renowned for its ease of use and user-friendly interface. However, each AI editor has its own strengths and weaknesses, so the choice will depend on your needs.
In conclusion
There's no denying that WriteSonic is a valuable tool for anyone looking to automate their content writing process. What's more, using AI to generate quality content can truly transform the way you create content. For sure, your writing skills and productivity are likely to increase with this kind of AI.

More sites like
WriteSonic
in the category:
#Writing & Web SEO

WriteSonic
AI Alternatives for

WriteSonic :

« A multi-tasking AI assistant: writing, email, code, keyword and image generation. Available on IOS »
#Latest AI
#Writing & Web SEO

Visit this site

« A set of AI tools dedicated to writing, fully customizable. This AI can adapt to your writing style for even greater relevance »
#Latest AI
#Writing & Web SEO

Visit this site

« A multi-tasking AI that can generate text, video and images »
#Marketing
#Writing & Web SEO

Visit this site