Runway ML: A revolution in video editing using AI
Runway ML is a kind of online full-featured video editing software, using machine learning (AI). The site has many advanced features for video creators. Accessible via a browser, it offers tools for masking, color correction, compositing, generation and special effects.
With its rotoscoping capabilities, you can easily turn any movie into a green screen and edit it. Runway ML's Inpainting tool automatically removes unnecessary elements and objects from a video, speeding up the editing process.
Why choose this video editing software
Truth be told, Runway isn't really a piece of software. Still, it offers a similar experience to high-end video editors such as After Effects and DaVinci Resolve. Thanks to the cloud, it supports 4K video editing and exporting as well as formats like PNG and ProRes. Being fully online, you don't have to worry about downloads or storage.
Runway's magic tools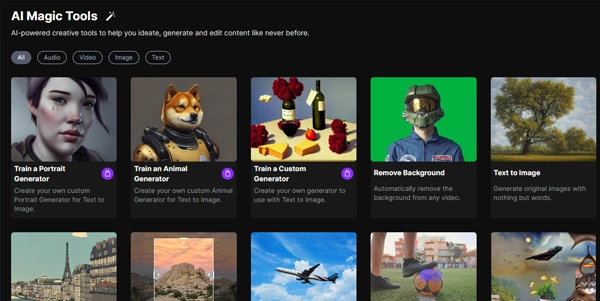 RunwayML's magical tools make it much easier to create professional videos at a lower cost. In fact, they leverage recent advances in computer graphics and deep learning to push the boundaries of content creation.
Work as a team through the cloud
Web-based accessibility allows teams to work together in real time, from any location. Runway ML's AI-based tools make special effects and video editing accessible on any Internet-connected device. Plus, updates and cloud storage allow projects to be accessed from anywhere in the world.
Rotoscoping
Rotoscoping is Runway's strong point, allowing intelligent identification of people and objects. It compares favorably to tools such as Adobe Rotobrush 2.0. Inpainting, on the other hand, is a contextual fill tool for removing unwanted objects from videos.
Runway ML and Gen-1
RunwayML's recently launched Gen-1 is an impressive artificial intelligence. This software has the ability to modify pre-existing videos to generate new ones, using text or images as references.
In an online presentation on its platform, Runway revealed to users how Gen-1 works. The video demonstrates how the AI turns individuals walking down the street into animated figures. The startup has great confidence in this innovation, as Cristóbal Valenzuela, Runway's co-founder, pointed out, "We have seen significant growth in generative image models."
Prices and available options
With these magical tools, you can create and edit things like green screens in just a few clicks. The free account offers standard features, 1GB of storage, export options up to 720p and unlimited projects. Paid editions offer more features and storage. Prices are quite reasonable ranging from $15 per month for the Starter version to $100 per month for the Pro version.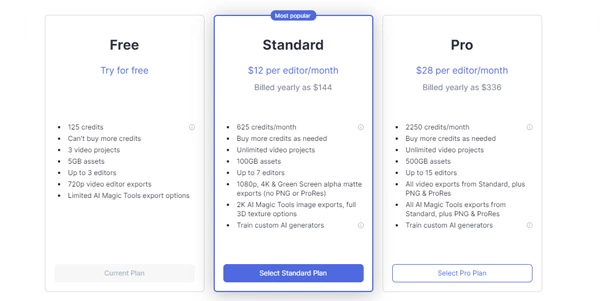 Features and benefits of Runway Pro
RunwayML is especially useful for those who work with green screens or want to optimize their movie in seconds. However, as we have seen, many features are only available to users of the Pro version.
Some of the benefits of RunwayML Pro include simplified workflows for both experienced designers and beginners. You also have access to powerful tools for performing complex tasks such as rotoscoping, background removal and various AI-assisted video edits.
Conclusion
In summary, RunwayML is an online video editing software with many features, ranging from basic editing to advanced post-production. It provides an experience comparable to a professional video production studio.

More sites like
Runway ML
in the category:
#Video Edition

Runway ML
AI Alternatives for

Runway ML :

« An AI that selects the best moments of your gaming sessions and turns them into clips. Insert the URL of your stream and the AI does the work »
#Games
#Latest AI
#Video Edition

Visit this site

« An AI studio to create, caption and customize videos easily and quickly »
#Latest AI
#Social Networks
#Video Edition

Visit this site

« Automatically remove silences and bad takes using expert video editing AI »
#Latest AI
#Video Edition

Visit this site