Poe: Chat with multiple AIs simultaneously
What is Poe
Poe, as an innovative mobile application, aspires to turn into a true multi-functional artificial intelligence (AI) tool. This formidable platform is distinguished by the fact that it brings together the most powerful AI models. Currently, you can use ChatGPT, Claude, GPT-4, Sage and Dragonfly (but there are many others). Its objective? To give a centralized and simplified access to these cutting-edge technologies. Thanks to Poe, it is now possible to query all these AIs simultaneously or to choose to query only one of them.
Why choose this AI?
The Poe app was developed by Quora with the goal of providing a personalized and tailored experience for each user. Each AI available on the platform has its own strengths and limitations. Depending on your specific requirements, the application proposes the most appropriate solution. For example, for solving complex problems, Claude+ is suggested, while Dragonfly stands out for the conciseness and clarity of its answers. On the other hand, if you use languages other than English, Sage and ChatGPT (3.5) are highly recommended.
Poe's innovation
In addition to being a platform that brings together various AIs, Poe also allows its users to create their own chatbot. In other words, you can create your personalized version of ChatGPT. To do so, you just need to submit a query in the interface as if you were in a chat with a chatbot. In an instant, you have a custom bot ready to use.
Success in the making
Accessible via Apple's App Store and Google Play Store (Android), the application is already gaining popularity. According to statistics provided by the website data.ai, the app has been downloaded more than a million times, generating hundreds of thousands of dollars in gross revenue. Currently, it proudly occupies the top 30 in the Artificial Intelligence category on the App Store.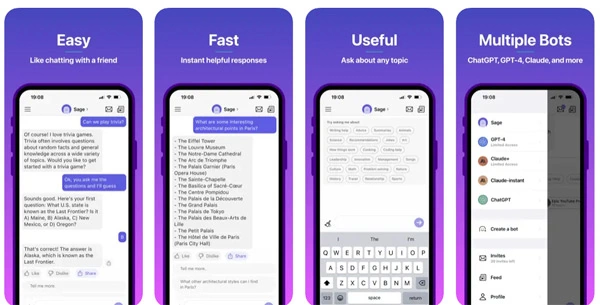 Interesting alternatives for Poe
As often, we are looking for alternatives or similar sites to the AIs we present to you. It is with great pleasure that we have managed to find 5 AIs that are quite similar to Poe. Here are the 5 alternatives we have selected: YouChat, StableLM, ChatSonic, HeyPI and HuggingChat
Review and conclusion
In conclusion, Poe stands out for its ease of use and its ability to make artificial intelligence accessible to everyone. From now on, we can expect an even wider adoption of these technologies thanks to sites like Poe.

More sites like
Poe
in the category:
#Education / Studies

Poe
AI Alternatives for

Poe :

« An AI to help you in your studies: math, science, literature, etc.. »
#Education / Studies
#Research & Science

Visit this site

« A versatile mobile app for students: writing assistant, essays, summaries, Q&A, etc. »
#Education / Studies
#Latest AI
#Summarizer
#Writing & Web SEO

Visit this site

« Tool that automatically summarizes even very long articles. Compatible with Medium, TechCrunch, etc. »
#Education / Studies
#Latest AI
#Productivity
#Summarizer

Visit this site