Notion AI: Intelligent assistants for daily tasks
Today's digital age demands project management solutions that don't just plan, but anticipate and adapt. Notion, with its integration of artificial intelligence, meets this requirement by offering a dynamic and intelligent platform.
Introducing Notion AI
Notion is an all-in-one platform for creating notes, databases, kanban boards and much more. Its ability to integrate different types of content makes it a flexible workspace. Users can centralize their documents, tasks and calendars in a single location.
Notion's essential features
The Notion website stands out for its ease of use. The intuitive user interface lets you drag-and-drop elements, customize templates and collaborate in real time. Sharing options and adjustable permissions ensure that the right information reaches the right people.
Practical use cases
Whether for managing projects, taking notes at meetings, or creating a personal workspace, Notion AI adapts to a variety of contexts. Software development teams use it to track sprints, while editors appreciate its ability to store and organize their articles.
AI use cases in Notion
Project managers leverage AI to automate task allocation and progress analysis. Marketing teams, meanwhile, use AI capabilities to segment tasks according to priorities and proactively track deadlines.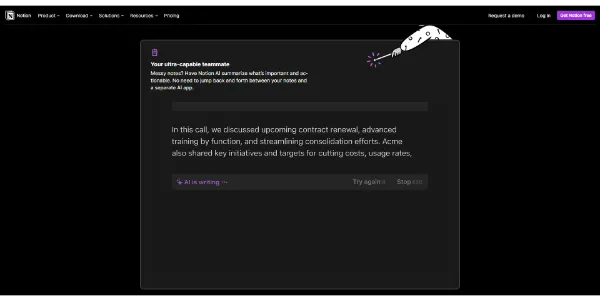 Advantages and disadvantages
Notion's integrated AI adds an extra dimension to project management. For a comparative analysis, here's a table summarizing the benefits and disadvantages:
✔️ Advantages :
Learning personalization: Notion AI adjusts and personalizes itself according to the user's habits.
Intelligent task automation: the tool suggests actions and organizes content using AI.
AI-optimized search: find what you need quickly with intelligent suggestions.
❌ Disadvantages :
Increased initial complexity: The wealth of functions can make initial learning demanding.
Training required for new users: To take full advantage of Notion's capabilities, familiarization with the tool is often required..
Too many features for some users: Users looking for simplicity can feel overwhelmed.
Similar alternatives to Notion
For those looking for different functionality or a simpler approach, tools like Trello, Text Cortex or Evernote may be worth considering. These alternatives focus on specific aspects and may be more accessible to beginners.
Conclusion and review
Notion, enhanced by artificial intelligence, is a project management solution that proves to be a valuable asset for those seeking to optimize their productivity. While its abundance of features may seem intimidating at first, the long-term benefits justify the investment in mastering this tool. Notion is therefore a solid option for those wishing to benefit from intelligent assistance in managing their projects.

More sites like
Notion AI
in the category:
#Productivity

Notion AI
Text generated by AI
AI Alternatives for

Notion AI :

« An AI-enhanced search engine with an integrated chatbot. It efficiently reorganizes results, targets relevant answers and provides sources »
#Latest AI
#Productivity
#Search engine

Visit this site

« Automatic AI generation of a summary of a YouTube video. Enter a YT address and the AI takes care of everything »
#Latest AI
#Productivity
#Summarizer

Visit this site

« A Chatbot (extension) that provides real-time responses in your Zoom, Teams or Google Meet meetings »
#ChatBots
#Human Resources
#Productivity

Visit this site