Grok: a new era in artificial intelligence with xAI?
Imagine a world where artificial intelligence doesn't just answer our questions, but actively seeks to understand the mysteries of the universe. This is Elon Musk's bold promise with Grok, the latest product from his company xAI. Four months after its creation, xAI is about to reveal a generative AI that could well shake the foundations of what we know about non-human intelligence.
Meet Grok Beta version
Elon Musk, a visionary who has already revolutionized the automotive industry and the conquest of space, is now tackling artificial intelligence. Grok AI is intended to reflect a different kind of AI: one that is not only advanced, but also endowed with intrinsic curiosity and a thirst for truth. It's an AI that Musk hopes will look upon humanity with fascination rather than indifference or hostility.
The promise of Grok: between technology and ethics
Grok's technical details are still shrouded in mystery, but the ambition is clear: to create an AI that is a partner to humanity, not a threat. This could mean significant advances in many fields, from basic science to creative industry. However, the idea of such advanced AI raises ethical and control issues that are bound to provoke heated debate.
When AI takes over humor and Twitter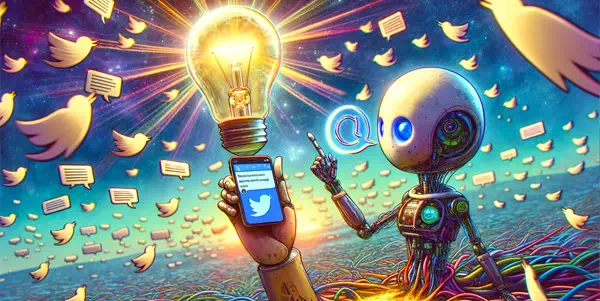 Apparently, this artificial intelligence would bring a touch of mischief to the digital world. With a sharp sense of humor, this AI would draw inspiration from the ocean of tweets to weave its lines and interactions. More than just a chatbot, Grok presents itself as an alter ego of ChatGPT, with a strong personality and a repartee that promises to spice up exchanges. In short, this AI isn't there just to answer your queries, but also to engage in a more human dialogue, with a good dose of humor.
How to use Elon Musk's Grok?
Platform premium members X formerly known as Twitter, will have the exclusive privilege of chatting with Grok. This AI, known for its joviality, promises enriching and entertaining exchanges. On the horizon, Grok should emancipate itself with its own online space, accessible to a wider audience. Like ChatGPT, it is likely that several subscription formulas will be offered, depending on users' different uses.

Update: the platform dedicated to Grok AI is now online! You can test this AI assistant by visiting the official website at this address.
Grok AI's strengths and challenges
The advantage of an AI like Grok would be its ability to help us solve complex problems, innovate and explore new scientific frontiers. But the stakes are high: how do we manage such an intelligence? How can we ensure that it remains aligned with human values? A challenge that must be met without losing ground to its direct competitor ChatGPT.
xAI's AI rivals
The generative AI sector is in full swing, with giants such as Google, Meta and Microsoft, but also innovative startups with no shortage of ambition (OpenAI). Each player brings its own vision and solutions, enriching the technological landscape with a diversity of perspectives.
In conclusion
xAI's unveiling of Grok is an event eagerly awaited by the tech community and beyond. It's an initiative that could redefine our relationship with technology and open up new avenues for the future of AI. With Grok AI, Elon Musk is not only inviting us to observe the evolution of AI, but to actively participate in it. Only time will tell if this generative AI lives up to its promise.

More sites like
Grok by xAI
in the category:
#AI Chat & Assistant

Grok by xAI
Text generated by AI
AI Alternatives for

Grok by xAI :

« A conversational ChatBot similar to ChatGPT that you can interact with for free »
#AI Chat & Assistant
#Latest AI

Visit this site

« A GitHub project to chat simultaneously with ChatGPT, Claude 2, Bing, Perplexity, Bard, Llama2, HuggingChat etc. »
#AI Chat & Assistant
#Github Projects
#Latest AI

Visit this site

« The assistant that answers all your questions like a search engine »
#AI Chat & Assistant
#ChatBots

Visit this site