Grammarly : Reviews, Prices, Info & AI Alternatives
Imaginez un assistant IA qui veille sur chaque mot que vous tapez, un allié discret qui chuchote des suggestions pour polir vos phrases et élever votre prose. Meet Grammarly, the writing assistant that promises to turn your texts into masterpieces of clarity and precision. Although its paid subscription may seem expensive and it doesn't work offline, its ease of use and multi-platform support justify its cost.
How Grammarly works
The Grammarly.com site compares your writing to a database of content and style errors, as well as to anonymously collected data from its daily active users. However, an Internet connection is required for its operation. The application highlights critical errors in red, and advanced errors in other colors for premium users.
The site also stands out for its transparent and secure mode of operation. How is it secure? Because this AI uses advanced encryption protocols to protect your data.
Technology that understands your needs
Grammarly isn't just a proofreader. It's a technology that understands the context of your writing, adapts to your tone and respects your unique voice. Every suggestion is an opportunity to learn and improve, not just a cold, impersonal correction.
The tool is also available on Android and iOS via a mobile keyboard app, and supports major authoring platforms such as Google Docs, Notion and Medium.
Grammarly's applications
The Grammarly desktop application is intuitive and functional. It lets you import your documents or write your texts directly in the editor. The site also offers formatting tools and the option of customizing the dictionary and editing language. Premium features include consistency checks and performance measurements based on comparative analyses with other users of the application.
Web Extensions and Programs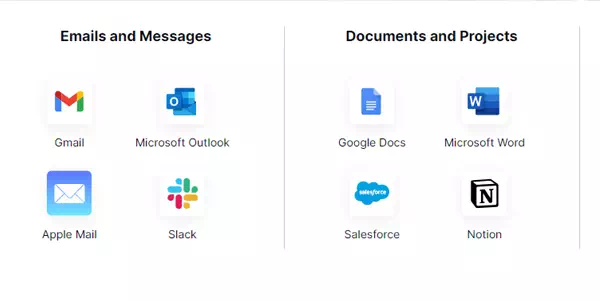 Grammarly's browser extensions examine what you're writing in real time (e.g. in Gmail, Outlook, Apple Mail, Notion or Slack). The plug-in for Microsoft Office can be integrated directly into Word and Outlook. These tools point out errors by underlining them, and suggest detailed solutions for correcting them.
Tips that keep pace with you
When you're drafting an important e-mail or polishing a lengthy article, this AI assistant accompanies you like an attentive and skilled mentor. It guides you with contextual suggestions, so you can stay in control of your creation.
What is the price of Grammarly?
Grammarly.com currently offers three price formulas:
Free: The free option contains basic suggestions and tone detection, which is perfect for writing ordinary texts.
Premium: For those looking for a more advanced service, Grammarly Premium is available from $12.00 per month. This package enhances your experience by providing complete sentence rewriting, vocabulary ideas, tone ideas and much more.
Business: Corporate customers can opt for Grammarly Business, which includes everything Premium offers, plus features designed for teams, such as centralized billing and style guides. Prices for the Business package start from 15.00 USD per member per month.
Advantages and disadvantages of Grammarly
Grammarly's advantages include fast correction, excellent cross-platform interfaces and sophisticated writing style tools. However, cost can be a drawback for some, as can the absence of an offline mode.
Alternative solutions to Grammarly
For those looking for alternatives, there are similar artificial intelligence tools like QuillBot, NeuroSpell et WordAI. These different AI-powered services also feature grammar and style checks, although each has its own specific features.
Conclusion and review of Grammarly
Grammarly is an indispensable assistant for all writers seeking to improve their style and writing. Its in-depth analysis of grammar, spelling and style errors makes it a tool of choice, despite its high price tag. Its integration into the writing process is equally beneficial for e-mails, blog posts and academic papers.
FAQ about Grammarly
– Is Grammarly easy to use? Indeed, its intuitive interface makes it accessible even to beginners.
– Can Grammarly be trusted for confidentiality? Grammarly takes security seriously, but like all software, you need to be careful.
– Does Grammarly work in all languages? Grammarly is currently only available in English.
– Can I use Grammarly on my phone or tablet? Yes, the site is also available on iOS and Android devices, to help you write with ease and precision from your phone or tablet.
– How does plagiarism detection work? Users of the Premium version of the site can activate plagiarism control for their document. This function is deactivated by default and can be activated once editing is complete.
– Is it possible to personalize suggestions? Yes, with the Premium version, you can disable certain types of suggestions, such as passive voice alerts or the addition of the Oxford comma, depending on your preferences.
– Can I download documents after editing them? Yes, once you've finished editing, you can download your document in the same file format as the one you started with.
– Does Grammarly offer document statistics? Grammarly provides detailed statistics on your text, including word count, readability and vocabulary used.
– Does Grammarly offer an expert writing service? If you're a Premium member, yes, you can have your document edited by copywriting experts who can correct any errors and improve the clarity of your text.

More sites like
Grammarly
in the category:
#Writing & Web SEO

Grammarly
Text generated by AI
AI Alternatives for

Grammarly :

« Boost your content creation with the help of over 150 AI templates and tools. Take advantage of personalized suggestions and grammatical corrections »
#Latest AI
#Writing & Web SEO

Visit this site

« An AI that helps you write engaging responses and comments on LinkedIn posts »
#Latest AI
#Social Networks
#Writing & Web SEO

Visit this site

« Simplifies and accelerates the creation of newsletters: generates relevant titles, automates writing, etc. »
#E-mail
#Latest AI
#Writing & Web SEO

Visit this site