Studio D-ID: AI-driven video avatar creation
With Studio D-ID, you can create truly out-of-this-world avatar videos. Creative Reality™ Studio provides you with the ultimate suite of tools to successfully achieve mesmerizing visuals. So in terms of results, you will produce a real presenter (or presenter) who actually looks like a human and moreover he/she talks! To make your own avatar, you won't need anything. You write your text and he/she starts to read it out loud. To add even more realism, the avatar's lips move in a synchronized way.
How Studio D-ID works
I might as well tell you right now, the process is very simple. We will, however, for clarity, put it all in the form of a list with explanatory images.
Step #1: Enter the text to be read by the presenter (the avatar).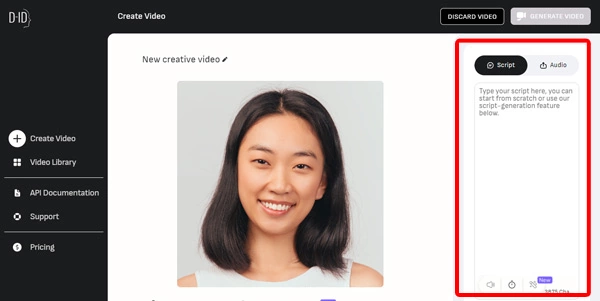 Step #2: Select an avatar based on the subject of your video.
Step #3: Choose the type of voice, style and language you want.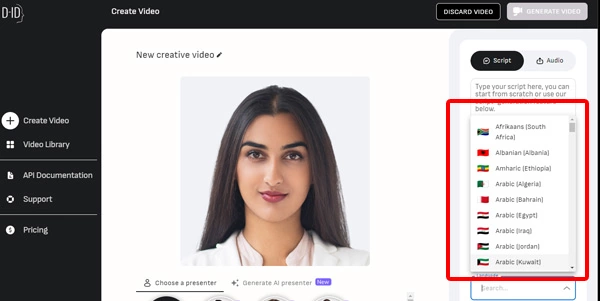 Step #4: add additional effects like colors, transition effects, etc.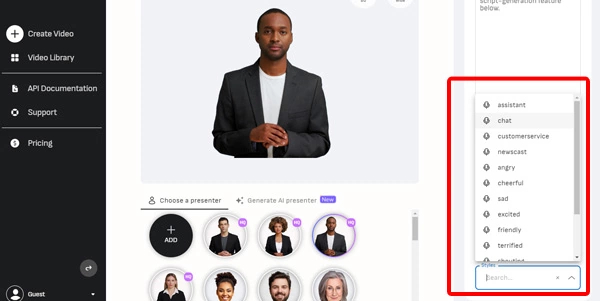 Step #5: Click the "Generate Video" button and let Studio D-ID's AI do the work.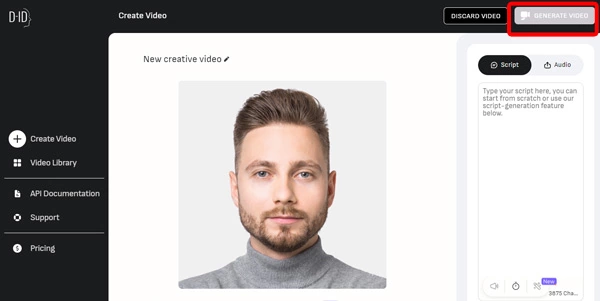 Step #6: it's ready! Get your video and broadcast it wherever you want.
Tip: note that you can also choose the facial expression of your avatar and make it sad, happy or angry for example. If you don't want to use text, you have the option to put your own voice or a recording.
Simple yet comprehensive options
In the end, if we summarize the options available so far, they are few. Despite this, the technology is promising and the results are more than conclusive. To tell the truth, it is as if we were really talking to a human. AI is not far from revolutionizing the media industry. Moreover, shy people dreaming of becoming stars on YouTube, TikTok or Twitter, can finally try their luck.
Studio D-ID is available in several languages
Usually, this kind of tool is very often reserved exclusively for English speakers. For once, this one is available in English, of course, but also in many other languages. Here is a small but not exhaustive list: French, Spanish, Italian, Portuguese, Russian, Chinese, and more. The Studio D-ID site is thus clearly an AI with an international vocation.
A free site?
Yes and no, in fact, it is a so-called "Freemium" site, that means it includes a free trial. In fact, you can try the platform for free for 14 days. You are also entitled to 5 minutes of video production per month (included in the trial period). After that, if you decide to upgrade, you'll then have access to premium (and standard of course) avatars for only $5.99/month. Let's be honest, considering the quality of DID studio service, it's not that expensive.
Review and conclusion on D-ID Studio
In conclusion, the technology used by D-ID Studio is likely to shake up the world of quite a few fields. Obviously, video creators on Youtube or TikTok have a lot to worry about. All the people working in the television or film industry too. In the future, Studio DID could well become one of the leading players in the field of video-based artificial intelligence.

More sites like
Studio D-ID
in the category:
#Video Generators

Studio D-ID
AI Alternatives for

Studio D-ID :

« Easy creation of engaging videos in just a few clicks. Mobile application available on IOS »
#Latest AI
#Video Generators

Visit this site

« Generation of breathtaking animation videos from one or more images in SD »
#Art
#Github Projects
#Video Generators

Visit this site

« Virtual avatar video generator: realistic and works in over 140 languages »
#Latest AI
#Video Generators

Visit this site