AIVA: an innovative, high-performance AI music generator
What is AIVA?
AIVA is a music generation platform powered by Artificial Intelligence (AI). Whether you're a music enthusiast or a seasoned professional composer, this generator can help you design elaborate and highly creative music.
How do I use AIVA?
Actually, using AIVA is quite simple and straightforward: you choose the kind of music you want, and then click on the button named "create". If you want to go further, you should know that the platform also lets you compose music in predefined styles thanks to specialized algorithms.
You can also compose with influences and upload (or enhance) your own compositions. What's more, this AI gives you almost limitless creative power. And how's that? By enabling you to create eye-catching themes for your projects faster than ever before, and by allowing you to make advanced (and sometimes complex) adjustments.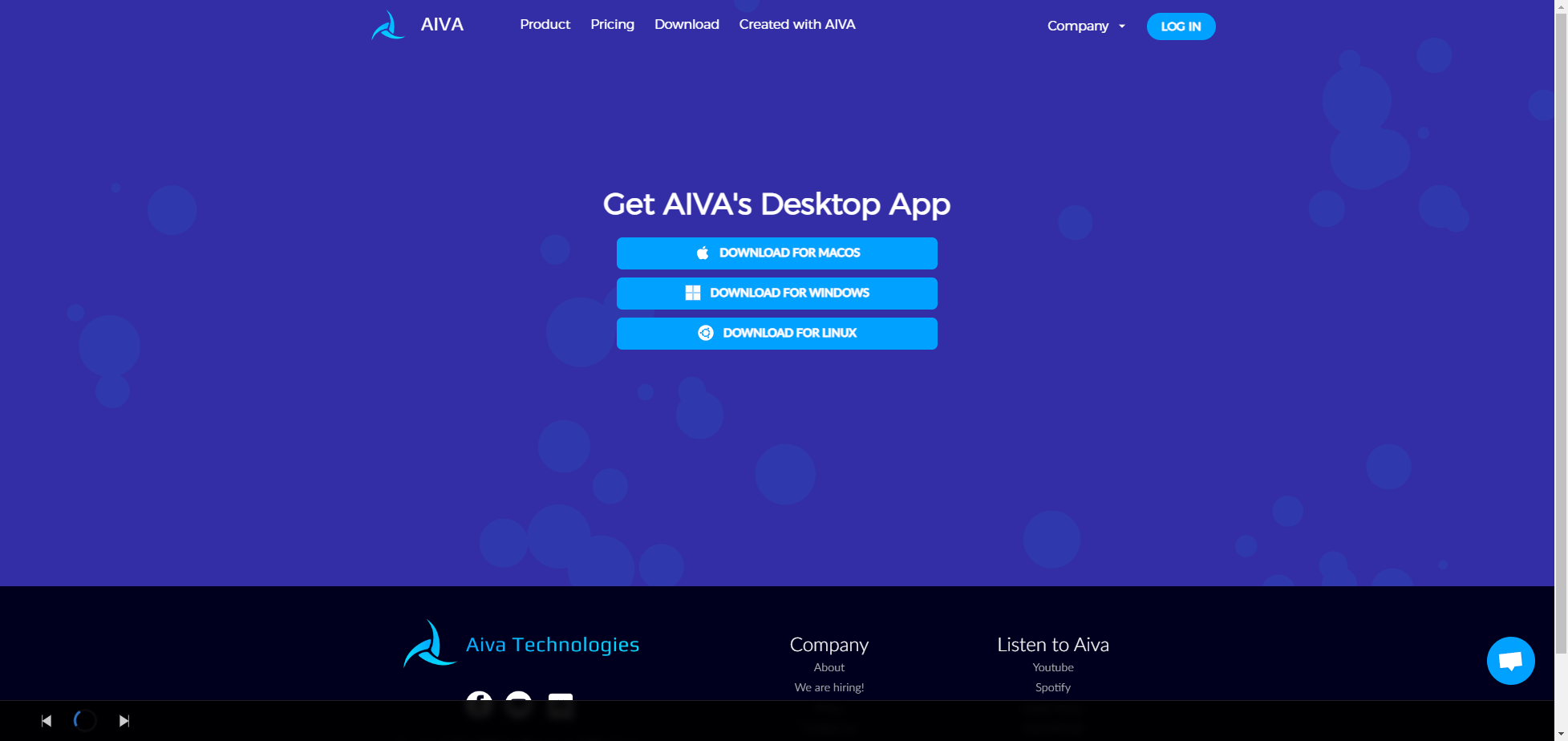 This artificial intelligence music generator runs on macOS, Windows and Linux.
Why choose this musical AI?
One of the main advantages of using it is the elimination of licensing hassles. If you create a track and want to use it for your own commercial activity, there's no problem. In fact, by subscribing to their Pro plan, you immediately own the copyright to any compositions you generate.
As for the musical genres available, there's a huge choice! Here are just a few examples: Modern Cinema, Electronic, Pop, Ambient Rock, Fantasy, Jazz, Sea chanteys and Tango.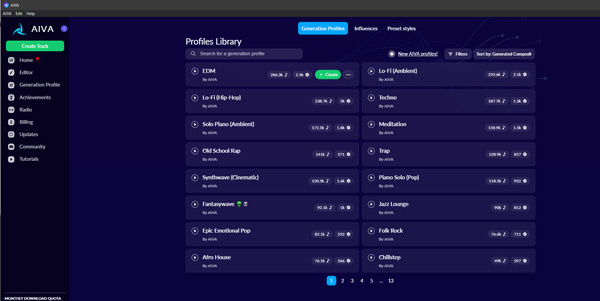 A screenshot of the interface. A very large number of musical styles are present.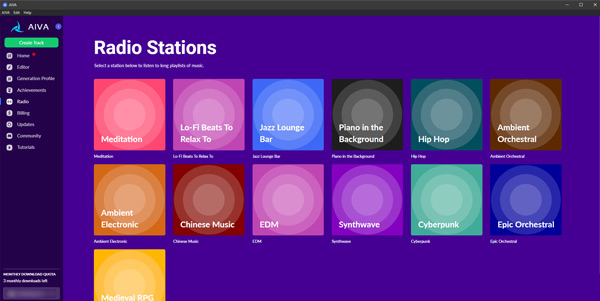 A radio station is online with the best musical creations.
Alternatives to AIVA
There are other AI-based music composition platforms on the market, but AIVA stands out for its ease of use and advantageous licensing options. Even so, we're going to give you a few sites that are fairly similar to AIVA. The best current alternatives, if you want to test music generators quickly, are these: Murber AI, Beatoven, Boomy et Soundful.
Prices, subscriptions and rates for AIVA.ai
AIVA offers several pricing plans tailored to students, schools or businesses. First, there's the free plan, which allows unlimited track creation and three downloads per month. However, with the free plan, the license is non-commercial, so you don't own the copyright.
Then there's the Standard plan, billed annually at €11 per month, which offers you unlimited downloads and a license that remains non-commercial. And finally, there's the Pro plan, billed annually at €33 per month, which gives you a commercial license and full copyright ownership.
Review and conclusion
In conclusion, AIVA is certainly a valuable tool for those looking to integrate music into their projects. Thanks to AI, you can generate music in a wide variety of styles in a matter of seconds.
Tip: we invite you to visit AIVA's official YouTube channel. Feel free to listen to some AI-generated music and songs. So, are you ready to take your musical creativity to the next level with AIVA?
✔️ Advantages :
A music generator that's easy to use, even for novices
Original music and predefined styles
Music can be used for commercial activities with the Pro plan
❌ Disadvantages :
Pop & Rock music downloads are not available for the free plan.
Full copyright is granted only with the Pro

More sites like
AIVA
in the category:
#Music

AIVA
AI Alternatives for

AIVA :

« Transform, edit and remix your music at any length while preserving the melody. Supports wav, mp3 and m4a formats »
#Latest AI
#Music

Visit this site

« Music created to help you stay focused and concentrated while you work »
#Music

Visit this site

« Creation of custom voices for your audio projects or music »
#Music

Visit this site